Jura E8 15364 Dark Inox Automatic Coffee Machine
The ultimate bestseller
The most successful automatic coffee machine in JURA's history – now even easier to use, with an even greater variety of specialities and an even more sophisticated design.
Whether the One-Touch Cappuccino function for trend specialities such as latte macchiato, flat white and cappuccino or the Pulse Extraction Process (P.E.P.®) that optimises the extraction time and guarantees the very best aroma for short speciality coffees – kitted out with the latest JURA technologies, the new E8 conjures up an impressive range of speciality coffees at the touch of a button.
Fine foam frother G2
The new fine foam frotherG2 is made from the highest-quality materials and has a stunning look and feel. Specially designed for the preparation of speciality coffees with milk foam, it makes cappuccino and other beverages with the very best fine-textured foam every time.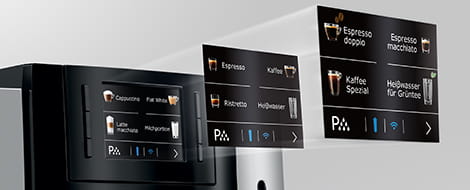 50% more specialities
JURA's most successful coffee machine has been refined even further. The E8 now prepares a total of 12 different specialities at the touch of a button. It now also offers hot water for green tea, special coffee, espresso doppio and espresso macchiato at the touch of a button.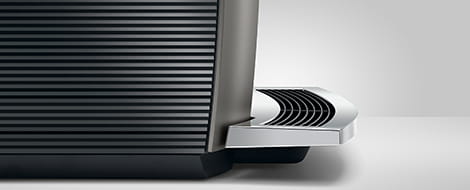 More beautiful than ever
The water tank in premium ridged design accentuates the clear design concept. The tactile qualities of the tank's metal handle convey quality. What's more, the new, chrome-plated cup grille superbly showcases the perfect speciality coffees. And on top all of these features, it's great to look at too!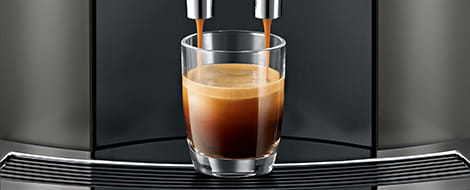 P.E.P.® for espressi of outstanding barista quality
A number of top innovations ensure that both classics and trend specialities can be created with breathtaking quality: The AromaG3 grinder is now twice as fast, yet preserves all the delicious aroma of the coffee beans. The Pulse Extraction Process (P.E.P.®) ensures the optimum extraction time for a short speciality and delivers a taste explosion for the ristretto and espresso.